Definitely get it out of that teeny-tiny pot ASAP. It should slide right out easily, with no trauma. Once it is out of the pot, if it is root bound (roots circling around the outside of the root ball), you have to gently loosen those up, like with a toothpick, so that the roots are hanging straight down. Then put it in a pot probably at least four times that big, with a free draining potting mix, like maybe part regular and part cactus mix or part potting soil and part sand or bark chips or extra perlite.
Don't fertilize until it is putting out new growth. Ficus is pretty resilient, so it should recover.
PS. I just realized, you put this in Bonsai forum. Were you wanting to make a bonsai of your ficus (it is not looking much like a bonsai so far)? It is in a very small pot now, but not a bonsai pot. Actually thinking it through, I don't think I would change my suggestion any. Even if what you want is for it to end up in a bonsai pot eventually, it will do better recovering and getting more healthy, putting out more leaves and branches, if you put it in a bigger pot now, for a couple years (yes, the art of bonsai is all about patience!!).
Here's one example of what a ficus bonsai might look like eventually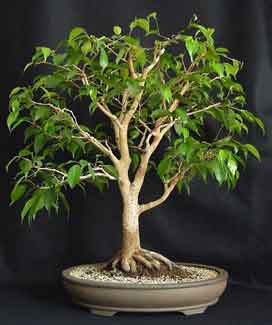 https://www.bonsaihunk.us/ficusforum/Fri ... aFicus.jpg