Hey guys,
Just found this site, and have learned bunch of great stuff allready! What a great recource. Anyhoo, a while back I casually mentioned that bonsai growing seems pretty cool. Much to my suprise I received my first "bonsai" as a birthday gift yesterday! Since then I have been doing some research on growing/watering techniques etc. In looking around the net, I found out that what I have isnt really considered a bonsai by enthusiasts, but more of "a small clipping that was glued into a pot and sold." Despite reading this, im still pretty excited to give it a try and transform it (hopefully with out killing it) into a true bonsai. I believe the tree is a juniper, and it seems to be pretty healthy (new growth is evident).
I allready removed the rocks that were glued on the top, "pinched" off some of the shoots that were growing downwards, and realize I need to replace the soil cause this stuff is probably pretty bad. I read on another post that a good soil for juniper is this stuff:
http://www.hollowcreekbonsai.com/item103798.ctlg
I also realize that soil is a very touchy subject and almost everyone will probably have a different opinion. I just thought I would get your guys opinion. (I live in Northern Ca by the way). Should I just go with this, something else, or should I check a local nursery? Once I get the soil im going to change it, and examine the roots and trim if needed.
Here are some pics on my new juniper (atleast im pretty sure its a juniper)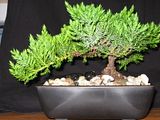 </center>
Anyways, just thought I would get your input! So far I really am enjoying checking out a bunch of info on growing bonsai trees. I think this will be a great way to get me into the hobby/art of growing bonsai trees. Thanks!