Since my last post on here, i went to Russia for a month, at which time, a few of my plants have died. Shortly after my return to this side of the globe, it was decided that i will be moving to Indianapolis IN. So a lot of my plants had to be left behind

. I've been here for about 3 weeks now, and i've been feeling very plant-deprived since i went from owning close to 20 (not just pre-bonsai but regular plants too) to 5 (4 of which are outside for winter. all I'm left with is a recenly rooted Scheff A. cutting. So last night i went to Wal-mart and saw a little $10 Wal-sai.
I am 99.99% sure it is a Fukien Tea, but of course it didn't have any identification on it. It has small white flowers and blooms, and some bright green recent growth.
of couse the first thing i did is take off the moss and glued rocks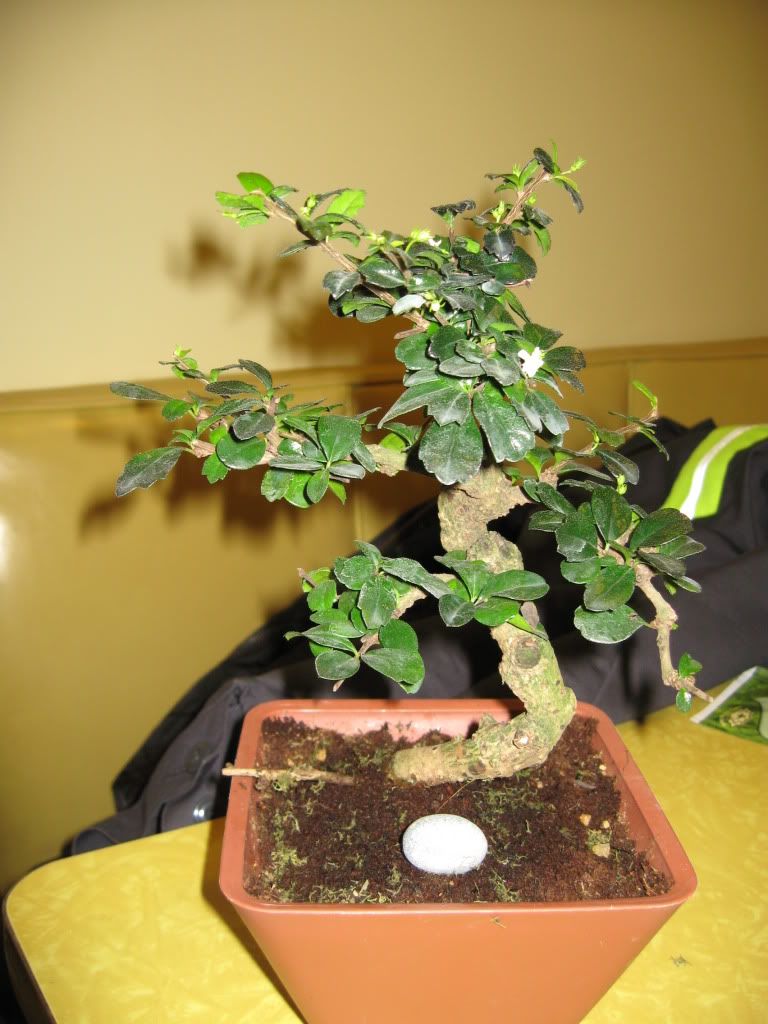 The soil seems to be peat moss, and was pretty damp.
i placed it on the counter in the kitchen where it gets eastern sun, as well as floressent light. and its not close to an air vent.
Today i noticed that some of the older leaves on the tree are getting dull, but its a mall-sai so i can't expect much, i know this
My question is
, should i get rid of all the blooms, to make it easier for the tree?
I haven't watered it yet, but when i do i'll be using filtered water since water in Indy is very harsh, my animals don't even drink sink water!
Thank you
P.S. Sorry about the reflective jacket in the background of one of the pics