(The following is an article from my local bonsai club newsletter. Written by Ruth Anderson, photos by John Conn.)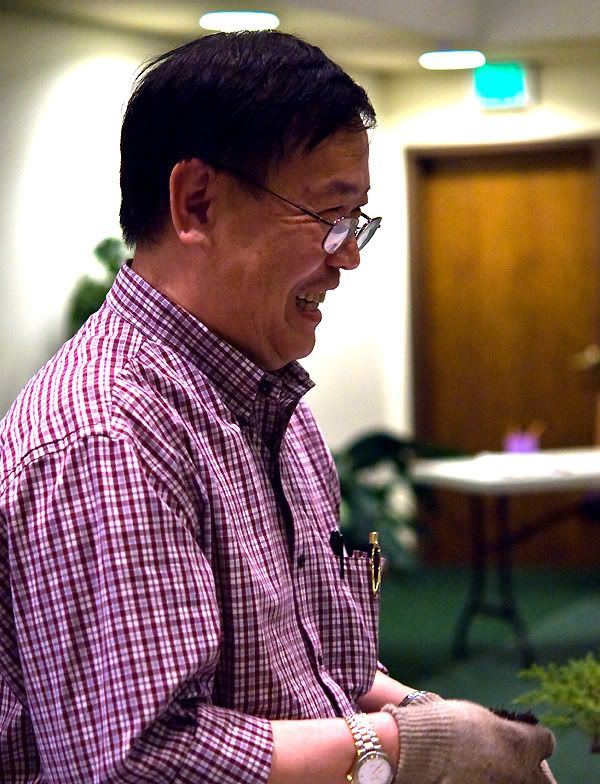 Mr. Cho created a most interesting penjing ('pen' meaning tray or pot, and 'jing' meaning scenery) using a marble tray, flat low growing moss, soil, lava rock, angular rocks of varying sizes, and plants.
The TRAY or SLAB should be flat, and can be either rock or slate and should NOT have a drainage hole.
THE TREE-- think about your design, and then choose a healthy tree appropriate for your climate and your design both in size, branching, and general shape.
Find 'SHORT MOSS', such as that which grows in parking lots.
The ROCKS should be of various sizes and can be glued together, but not to the tray.
SOIL--Be prepared to use far more than you expect to need.
LAVA ROCK or GRAVEL--unsifted for better drainage.
Mr. Cho discussed various types of tray plantings and explained that in Chinese art, the big is in front, and the small in back. He emphasized that art needs two things for balance: light and heavy. It is customary in Chinese art to place the heavy in front and the light in back. For bonsai, they place the tree in the center of the pot, but in penjing, they place the tree to one side.
Remember that you are the artist, creating a 3 dimensional picture. If the tree is too low, it can be planted higher; a damaged side can be planted against a rock.
He began by placing about a ½ inch layer of lava rock on the slab. He then made a mound of soil for the base for the tallest rock, placed the tallest rock, packing soil around the base to stabilize it. He arranged several smaller rocks around two sides of the tall rock, making a 'basin' near the base.
He next wired the juniper into a windswept form, which would be planted close to the tallest rock, but with the longer branch slanting downward toward the water area. He explained that if you do plant it angling up, in a few weeks it will settle and slant downward. He secured the tree with soil and placed a rock at the base of the tall rock to stabilize it. The soil will hold the rock and they will blend together. He placed the heavy rock in front, and the light in back.
He packed the soil firmly, added more and packed it again. He pressed it firmly at the base of the tallest rock. He suggested it best to spray water as you work to wet and pack the soil. Do not install soil in dry condition.
Representing a mountain, it does not need an even soil contour,. He pressed the moss into the soil. He added a few small rocks for interest on top of the moss and pressed into it. Where there are small holes or pockets in the rock, he put in a little soil and then moss in the holes. You should picture where there would be shaded areas on the rock, and put moss there.
Since it has no draining hole, place a small stone under one side of the tray to tip it just slightly so that excess water will run out. Feed it after one month.
This is not meant to be word-for-word directions as to how to create a penjing, but rather is intended to offer general guidelines as to how to make a successful one. Any bonsaist who was not able to attend this program but who wants to create a successful and satisfactory penjing should certainly plan to attend any future demonstrations by Mr. Cho.
By Ruth Anderson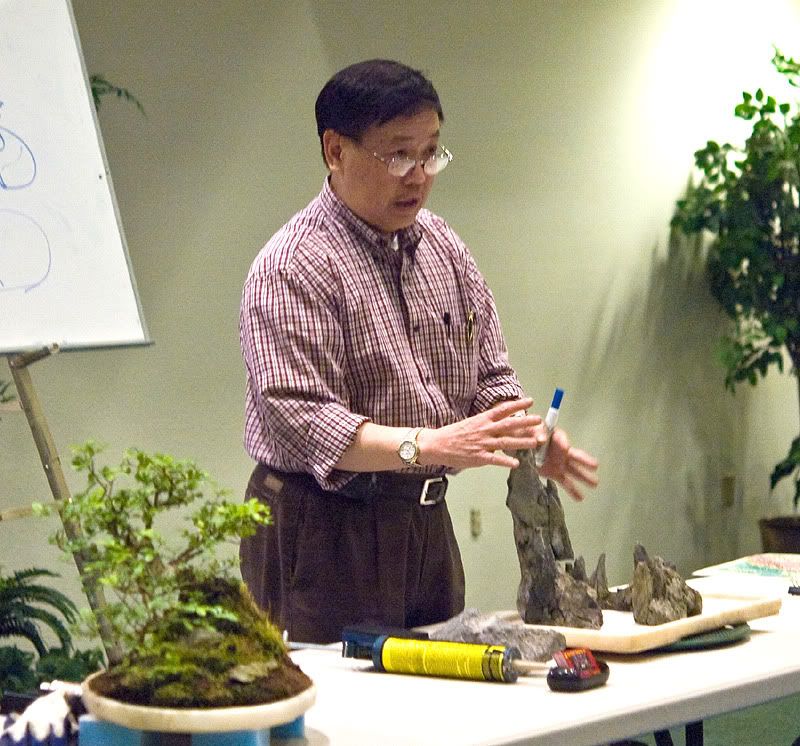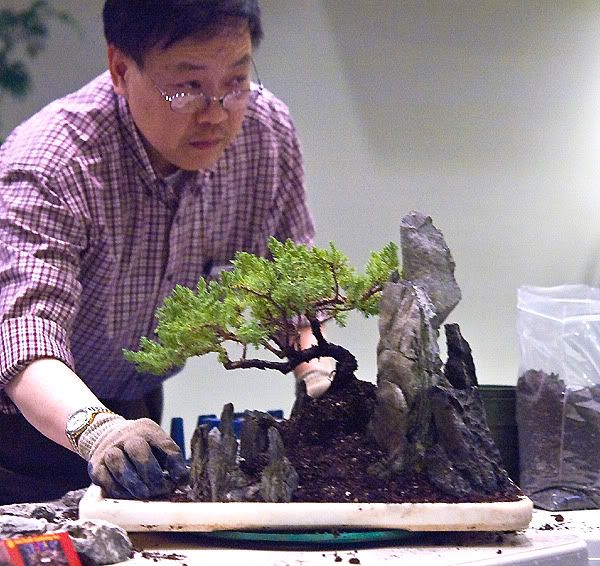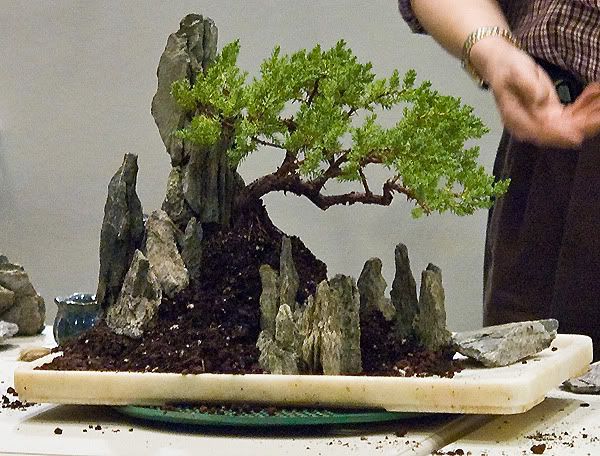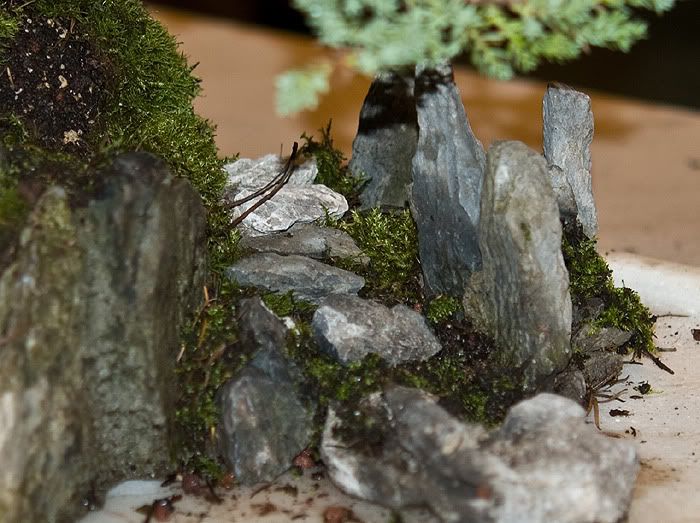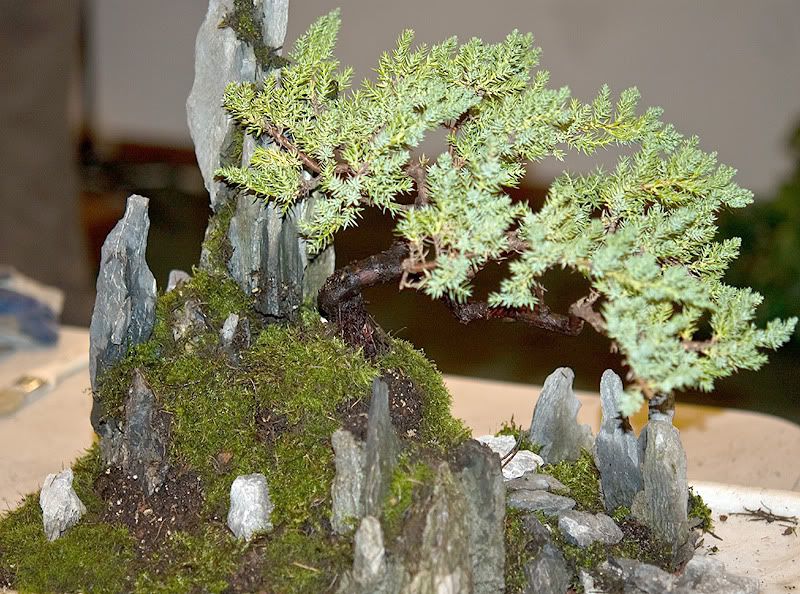 (This last photo is an example of another penjing that Mr. Cho brought with him.)