Hey guys, How are you all doing?
I just purchased a new juniper from my local home depot, (i know, not a great place to shop, but my nearest nursery is 35 miles away, and lets face it, as a college student, who can afford the gas?) it's a tam or tammy juniper, not an ideal bonsai species, but as i understand it, it's the most common juniper sold in SoCal. it was EXTREMELY well filled out and took me about 2 hours over 2 days to get it into the condition it is in now. it started out in a 13 quart container, and is now in a 6x8x2 1/2 inch bonsai pot. I've already removed quite a few branches, including a damaged one that i didn't see on initial inspection. I really like the trunk shape and the way the major branches are placed, and though you can't really see it, there are some fine potential nebari coming off the bottom.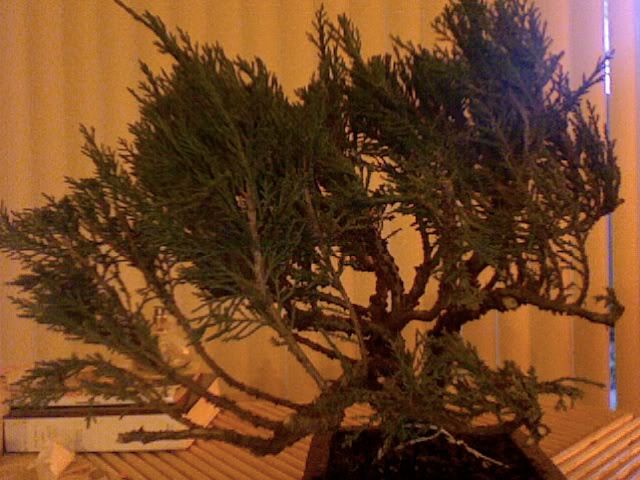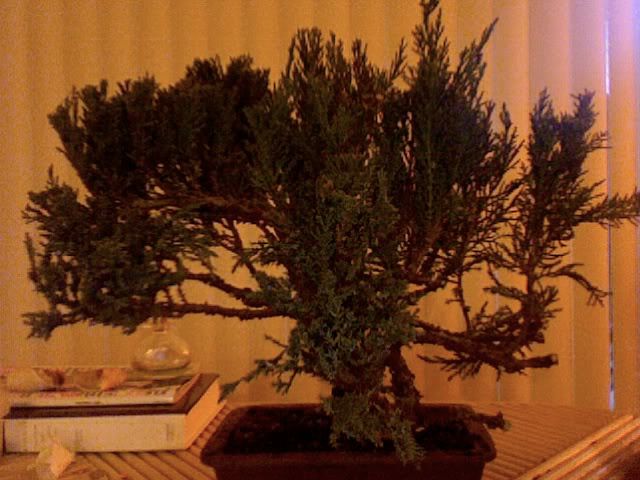 i like this angle as the front of the tree.
i really think that this tree would do well with a windswept style based on this angle, but that's a very difficult style to create, and I'm still a beginner.
a closer view of some of the branches that i've hacked off and the wounds that i've left.
Don't worry, i only brought it inside to photograph it, though in retrospect, the lighting was better outside. It normally sits on top of my porch fence.
As always, i do have a couple of questions:
1. Did i move too quickly from a huge 13 quart container to a small bonsai pot?
2. Does anyone have any ideas on how to train this tree? i can see potential for a windswept style, but as i understand it, that style is EXTREMELY difficult to pull off
3. You can see some of the stumps where i removed branches, and there is a branch that has no foliage on it at all, how do i heal those so that they don't destroy the image of the tree, and/ or will they heal on their own?
4. Any ideas on which other branches to remove?
And lastly, Norm, you've been so helpful in the past, you might be interested to know that unfortunately the juniper i was working with last year has passed away, but I'm hopeful that i'll do better this year.
Good luck with all your projects, and best wishes