I had fun with my daughter making up some more soil, grinding down the orchid mix to combine with Turface and lava rocks. She's a great help and I'm so happy she's interested in working with me on my trees. She's 8 and has really shown a great aptitude for the hobby. She knows the different types of trees I have and even comes up with unique names for them.
We potted up two trees this weekend, a boxwood and an azalea. The boxwood turned out to be a bit too big for the pot, but I had already picked out the roots and had to do something with it. So I put in in the biggest, deepest pot I had and covered the protruding roots with moss. I think it looks like a wind-swept tree on a hill. The moss I used was from my yard and I need to take some time to remove the sparse grass growing in it.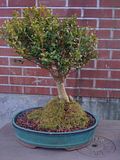 The azalea turned out nicely. It too sits high in it's pot, but I love the nebari and wanted to show it off. The moss needs to be cleaned up as well. After the buds have bloomed out, I'm going to trim the tree down closer to the trunks.
Pictures were taken with my iPhone, so they aren't the clearest. I'll shoot some better ones with my Nikon once I clean up the moss.