I was reading Len's comments on
this thread
when it struck me that my ficus has HUGE leaves.
I'd been letting it go since I re-potted it and it is thriving. So, I think it's time to start reducing it a bit.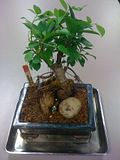 I have some quick questions. Would it be best to do it one-half at a time or all at once? When pruning the leaves off, do I cut them at the mid-petiole like I would a maple?
And, lastly, what should I do with those butt-ugly air roots? Chop them off or let them linger?