I've seen it mentioned as bonsai material in Japanese blogs and websites. Usually as Shohin (mini-bonsai), which seems to be popular over there. Generally referred to as a Kusamono or Nogusa (wildflower) -- These seem to be forbs as opposed to trees and shrubs.
Here's one:
from
http://www5d.biglobe.ne.jp/~ootake/iwak ... no2ca.html
(This one says these are from cuttings rooted 3 yrs ago)
Another from the same site:
from
http://www5d.biglobe.ne.jp/~ootake/yasouno930bb.html
(Described as from seeds sown 2 yrs ago)
Here's another:
(Described as won at the morning auction)
This one is some ways down a
very long blog page
titled "Bonsai Seller Talking to Self: Diary, Column, Musings"
First two are from a blog/website and the owner's profile describes him as having 40 yrs bonsai experience.
As an aside: In Japanese, these are usually phonetically called Hohzuki, but the original Kanji name for it is "Goblin's Lanterns". The last photo above is of species of plants that make smaller lanterns and the Kanji name for it is "Princess Goblin's Lanterns"
They look like this after frost and weather has stripped away the soft tissue of the lanterns: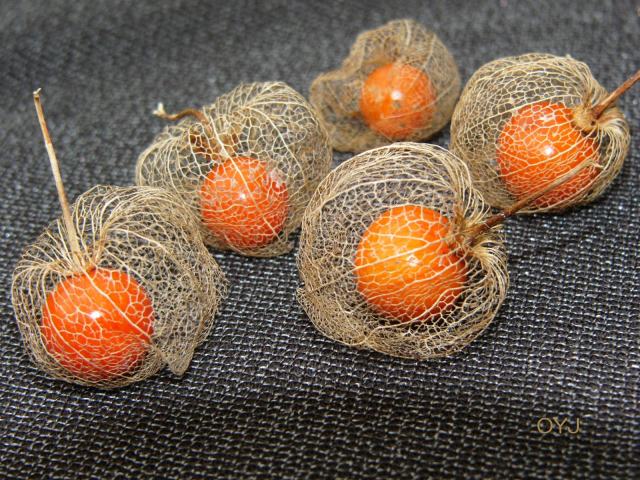 From
this website
.
I keep finding stuff to add to this post

Here's another terrific photo: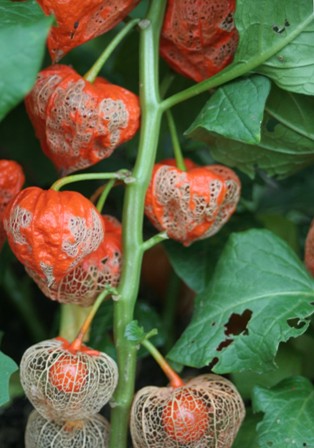 According to
THIS blog
, it's the *SLUGS* eating away at the lanterns that turn them into these beautiful netted creations.